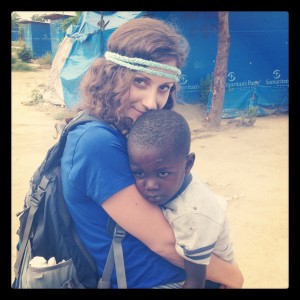 As promised, I am going to share stories of people who were shaken in Haiti. I think often it takes experiencing another culture to shake us from our apathetic American existence. The stories you will read did not happen during the earthquake, rather they happened while these people faithfully served the Lord in Haiti. As a result, the Lord radically changed their lives in order that maybe, just maybe, our country might be shaken because of what the Lord taught them.
Meet Ally, one of the toughest and most intentional women I know. I met Ally while serving with our young adults ministry and had the privilege of watching her lead and love others for over a year. She and her husband now lead together and as a result of their time in Haiti, I have watched them motivate young adults to live unashamed in our own city as we go out and share the gospel of Jesus Christ. This is her #ShakeninHaiti story.
I was walking through a tent village in Haiti, and saw a little boy sitting in the dirt road with no one around him. I picked him up, and he was completely limp with no energy. My heart broke. I held him for at least an hour as he fell asleep in my arms and I did the only thing I knew I could do…I prayed.
You see the year before I also had taken a trip to Haiti and felt overwhelmed by the number of orphans and destruction in the area. There was a moment when I was shaken about how the task at hand was so much greater than what I or my team could do. I almost felt defeated until I remembered God's character and His word. The same God that watches over me watches over these children. The same God that has redeemed and rescued me is redeeming and rescuing the people of Haiti. The awesome thing is, God allows us to be a part of it!
With God all things are possible (Matthew 19:25-26), and it hit me like never before to pray- to pray without ceasing (1 Thessalonians 5:17). God hears the prayers of the righteous (Proverbs 15:29), and the greatest thing I could do is pray for each child I held in my arms, pray for each village we walked through or drove by, and pray for this nation that God would do a mighty work and save each Haitian.
While praying, I loved that I could be God's loving embrace to the children who almost instantly fall asleep in your arms when you pick them up. God loves these children even more than I felt in that moment. I prayed like crazy that God would make himself known to this little boy. That if for just a moment the child felt safe and cared for in my arms, that he would find his loving Father as his true safety and refuge (Psalm 18).  Finally, I prayed for God to rescue this little boy and use him to help redeem this little dirt village in an even greater way than I can imagine.
My trips to Haiti taught me the power of prayer and that where we feel we are not able, He is able! Thank you, Jesus!