I remember the footage all too well, the announcement that an earthquake had struck a tiny island nation, the waiting and wondering if people were alive. It's been five years, and in that time, I've experienced what the Lord is doing in the aftermath. Today, I'm hosting a giveawy in support of 3 Cords, a ministry that provides jobs to men and women who became amputees due to the earthquake. Now they make and sell bags, head band, wallets, and other items.
In preparation for the release of Shadowed on March 3 (pre-order now!), I'm giving away two of these awesome (and reversible) 3 Cords totes with a signed copy of Shaken. Here's how to enter to win: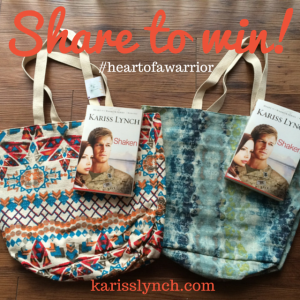 1) Make sure you are following me on Facebook, Instagram, or Twitter.
2) Repost this image and tag/mention @Kariss Lynch, Author (Facebook) or @Kariss_Lynch (insta and twitter)
3) Hashtag #heartofwarrior and #Shaken
Don't forget to share with your friends! You have until Thursday, January 15 at noon to enter! I will announce     winners on all my networks on Friday morning.
Good luck and happy sharing!