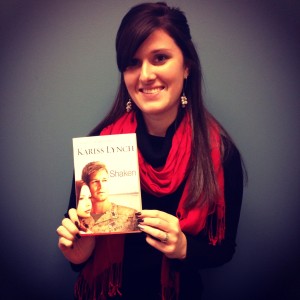 I've always been a dreamer. As a kid there was no telling were my little brain would take me – astronaut, pop star, world traveler, writer, CIA agent, wife and mom. I wanted to do big things. I wanted to matter. I wanted to make a difference. As an adult, I don't think that's changed too much. I'm still a dreamer. I still dream of traveling the world, singing on stage, or charging off into a mission with one of the SEALs in my book. Now, I'm putting all that dreaming to good use, and today is a dream come true.
Shaken releases nationally today, and just like that, my world changes. Not for any earth-shattering reason (no pun intended). For the first time since I penned the beginning of this story, it doesn't belong to just me. This story began in Lubbock, TX almost four years ago. I had 12 grad school rejections to my name, a flimsy job, and no idea where to go next. I guess you could say that I had my own earthquake moment in the aftermath of the Haiti earthquake.
I don't at all say that to make light of that tragedy. I only mean that in the several years following those first chicken scratch paragraphs, I learned that faithfulness and using the gifts God's given you isn't an "aha" moment or an opportunity gifted to you on a silver platter. It is one small step of obedience at a time, laced with personal insecurity that only makes you lean on the Lord more. And in those shaky moments, the moments of thinking you aren't good enough or you could plan your life better than He can, He teaches you that His way is always best.
Because of that, I can't claim much credit for this story. I've had loads of help and support along the way. In the most challenging moments, it always seemed like life would hit all at once from every direction. Somehow the writing or editing would get finished, and every time I looked back and thought, "How in the world did I accomplish that?" The only answer: He is faithful, guys. Faithful when I don't see it, faithful when I don't feel it, and faithful when I recognize it and thank Him. Only in His strength is this day possible.
As I both reflect and celebrate this day, I remember that this is no longer my story to hold on to. Very few people have read my fiction or much of my poetry, and most were obligated by birth or the threat of an F in class if they didn't critique it. It's a vulnerable spot, but today the Lord is teaching me that He wants to use even that part of myself for His glory.
So here we go, friends and fellow adventurers. For while I didn't understand why I started this story at the time, I now know why…
Shaken is for the dreamers, for all those who want to do big things.
It's for the adventurers, the ones with enough courage to step outside themselves and change their part of the world.
It's for the believers, to reassure them that God is BIG and works all things for the good of those who love Him.
It's for the doubters who don't see how God can be good in the midst of the moments that shake our lives and leave us with broken pieces.
It's for all the people who never thought they would amount to anything. Know that small steps in a consistent direction make a difference.
It's for those without hope that you may know there is a God who loves you and this world isn't all there is.
It's for the girls who want to read about a young woman who doesn't have it all together but who is used in a mighty way and possesses a courageous heart.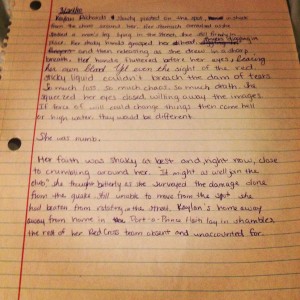 It's for the hopeless romantics who dream of a guy who will actually value them in a way that honors Christ.
It's for the guys who dare to stand in the gap and love others with a strength and boldness that comes from knowing they belong to the One who controls all things.
It's for the adults who don't quite understand the heart of my generation but desire to teach and mentor us. We can learn as much from you as you can from us. Let's partner in this.
Shaken is for you, sweet friend. And for me. I hope you find a story you love, but more than that, I hope you discover the God who loves you.
I will end with words that inspired the story…
"Two roads diverged in a wood, and I—I took the one less traveled by, And that has made all the difference." Robert Frost